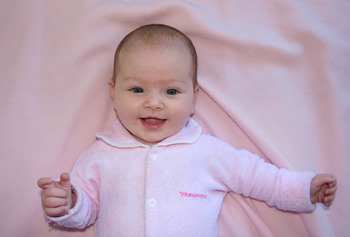 Sophie aims to involve you and your partner in decision-making regarding your pregnancy and birth at all stages, and to facilitate a positive birth experience in the safest way possible.
The transition to motherhood is a pivotal event in a woman's life, and Sophie counts it as a privilege to care for you and support you at this momentous time. Sophie's professional expertise and experience, and calm demeanour and unhurried manner provide support to you in your journey to parenthood.
Sophie consults at North Shore Private Hospital and Sydney CBD locations for your convenience and resides in close proximity to both North Shore Private and the Mater Hospitals in order to provide the best of care when needed.
If you are looking to conceive Dr Lynch is also happy to see you for preconception assessment and advice.


Obstetrics:
As the mother of three herself, including twins, and having personally delivered more than 3000 babies, Dr Lynch is passionate about bringing new life into the world, whether via vaginal delivery in all its vagaries, or by caesarean section. Dr Lynch believes strongly in a woman's right to informed choice around the mode of delivery of her baby or babies.
Dr Lynch believes that it is a privilege to care for all pregnant women, and looks after:
High and low risk pregnancies
Older mothers
Natural births
Caesarean section
Premliminary infertility assessment
Recurrent miscarriage
Pre-eclampsia (high blood pressure) in pregnancy
Gestational /pre-existing diabetes and pregnancy
Twins
Vaginal birth after Caesarean births (VBAC)
Management of abnormal cervical screening tests
Hypertension in pregnancy
Postnatal care


Dr Lynch is happy to conduct a Trial of Scar or Vaginal Birth After Caesarean Section [VBAC], with appropriate informed consent, if this choice is a safe one.Dr Lynch delivers babies at two of Sydney's most highly regarded maternity centres, North Shore Private Hospital and the Mater Hospital at North Sydney. Both are licensed to look after births from 32 weeks of gestation. Tours of both units may be arranged directly with each hospital.
Why choose Private Obstetric Care?
Private obstetric care is individualised care and brings with it the security of knowing that the decision making in your pregnancy and during the birth will be under the guidance and supervision of a specialist at all times. It allows you the time to develop a relationship and rapport with your personal obstetrician over a period of many months, with continuity of care as a given. You therefore have the opportunity to address your concerns with your carer in an unhurried manner during your pregnancy and to make decisions in a timely fashion, under consistent guidance.
In contrast, as a patient in a public hospital, it is usually not possible to know who will be present at the birth of your baby and whether your care will be led by midwives, junior doctors, senior doctors or a combination. The decision making process therefore may follow a different trajectory. While comprehensive medical care of a very high standard is available through the public hospital system in Australia, the system is reliant on trainee doctors (interns, residents and registrars) under the direct or telephone supervision of senior doctors.
the Mater Hospital in North Sydney,

and at the North Shore Private Hospital in St Leonards



Make an enquiry today to start your journey.